Geier Hall: At the Front of Forward Thinking
Mt. Pisgah Christian School
Case Study - Academic / Institutional
Mount Pisgah Christian School's new Upper School and Dining building stands at the forefront of the school's forward thinking academic philosophy and rivals many collegiate facilities. Geier Hall provides students with three levels of state-of-the-art space designed to maximize instruction, collaboration, creative expression and fellowship.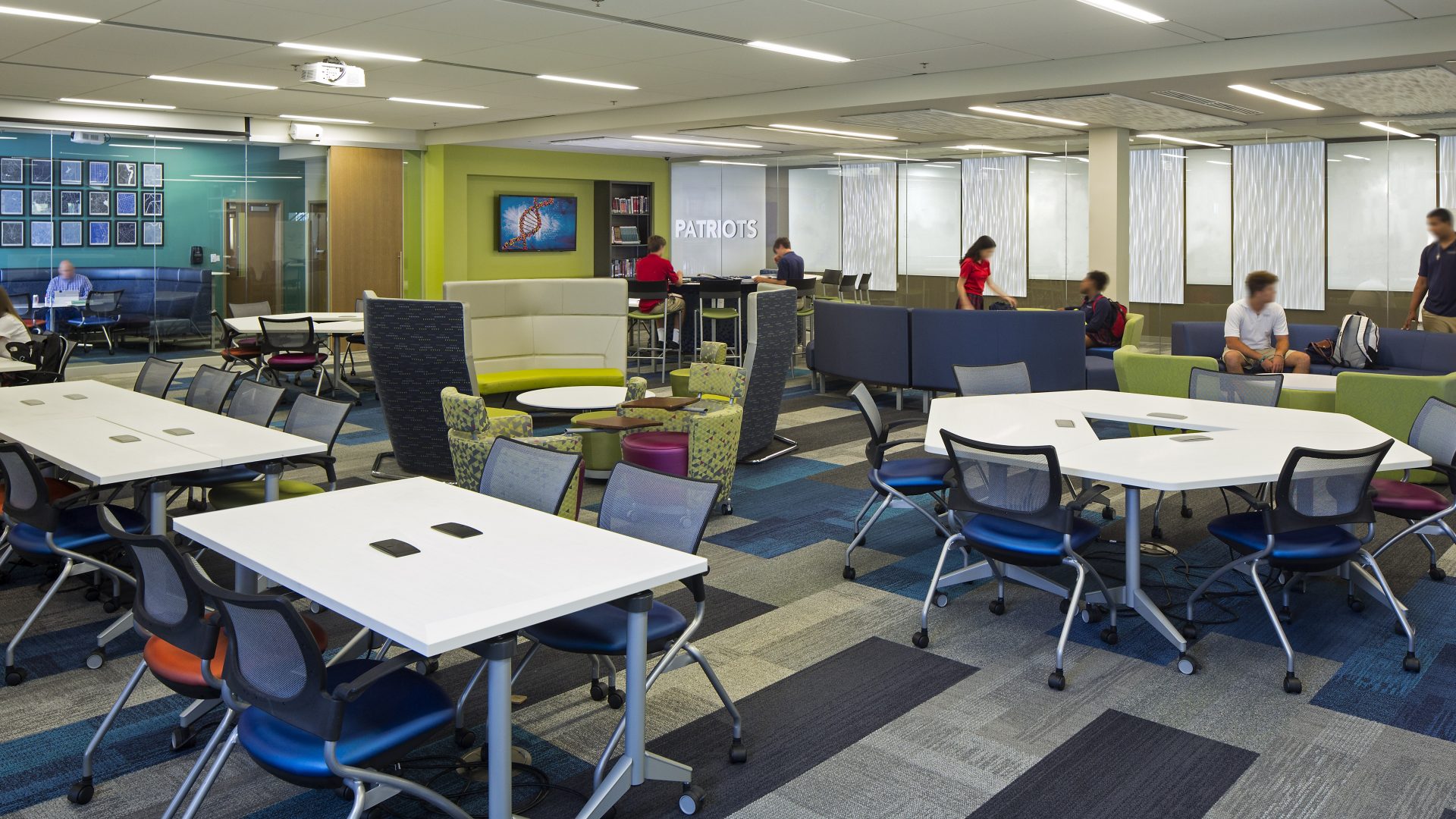 What is unique and different about this project?
The main level houses the innovative Learning Engagement Center (LEC) where students have access to technology and expert resources, adapting their environment with reconfigurable furniture and technology that can facilitate various types of gatherings and collaborations. Classrooms utilize similar furniture, allowing teachers the freedom of mobility during instruction. The variation of classroom sizes with movable partitions allows additional flexibility and freedom to create the ideal learning environment. Circulation space has embedded areas for serendipitous encounters and display walls for student artwork. The palette of materials that connect these spaces throughout the building evoke a sense of welcoming and sophistication.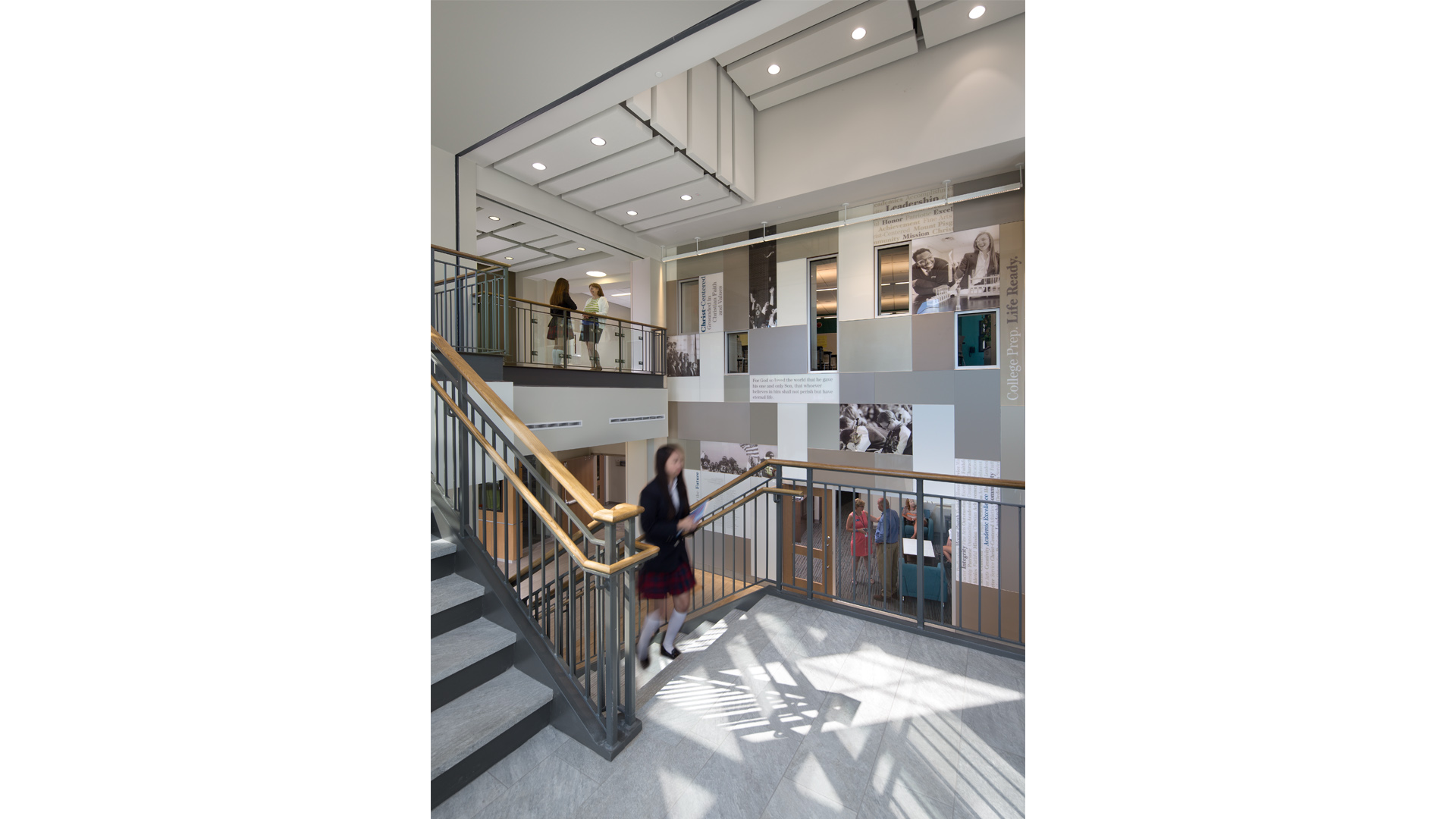 An iconic graphic wall soars through the main lobby, displaying donor names and pieces of Pisgah history that reflect the past, present and future. The lower level features a multi-use extensive dining hall space that is malleable to fit a number of occasions and provides a stage for formal assemblies. A gourmet kitchen and servery offers an array of cuisine that competes with collegiate dining.
The combination of the building's abundance of natural light and high efficiency lighting, with the use of a variable refrigerant flow system promotes highly elevated energy savings. The design transformed an above ground detention pond into a vibrant student green space by using an underground storm water management system.
Students and faculty have made the building their own, leveraging the design's openness and transparency with academic and social interaction that ultimately heightens Mount Pisgah's sense of community and acts as a catalyst for its future success.
What desired outcomes were you trying to achieve?
While common goals of any educational facility are to accommodate growth and maximize financial resources, the overarching goal for Mount Pisgah's new Upper School was to facilitate their forward thinking academic philosophy. This proved to be the project's main design driver, motivating the overall aesthetic to become reminiscent of a collegiate campus with feelings of sophistication within interior spaces. The new building's exterior façade was required to be consistent with the campus's already established context, but to be updated with glass and curtain wall to express the school's ambitions of innovative learning environments.
Overall, the building fit perfectly into the footprint of the campus and offers a unique learning environment for current and future students, as well as instructors and faculty.
"Geier Hall purposefully supplies teachers with the resources that allow us to do what we do best. Interaction and collaboration occur naturally in the building to foster even more of the community feeling that people have always loved about Pisgah."