It's amazing how this summer has flown by. I remember my first day at CCCA- I woke up before my alarm and skipped breakfast because of nerves. My first day was a blur of meeting new people, forgetting names and using the floor plan to navigate the office, and even find the restroom. Over time, I grew comfortable in my surroundings and confident in my abilities to be an asset to the team. I've learned so much in the past three months, and I owe it all to the #CCCAFam.
While CCCA taught me so much, I found myself noticing similarities and differences between work and school. It's good to know that my expensive education is useful.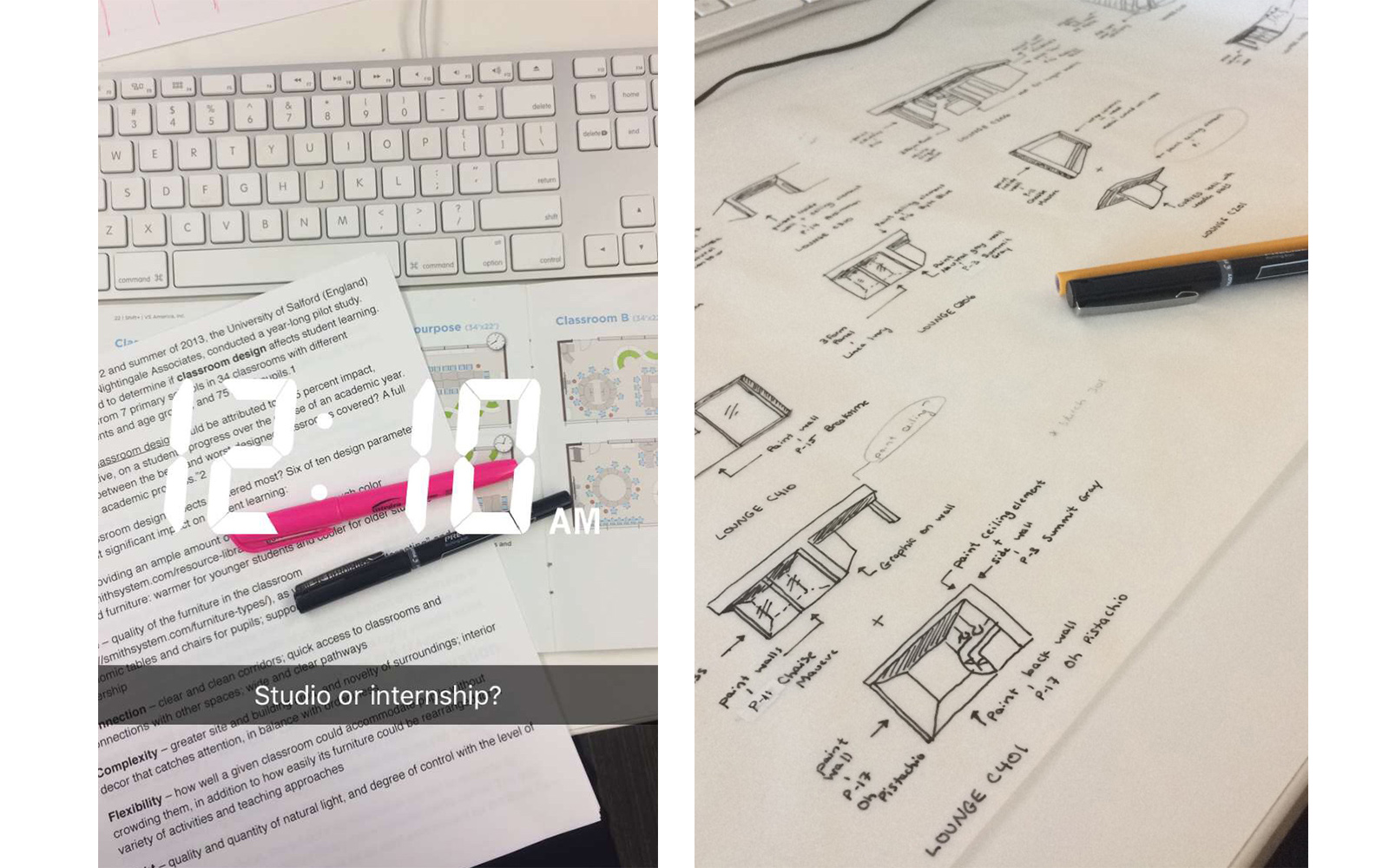 [ School and Work Collide ]
Technology still fails at the last minute.
I had hoped that technology would magically repair itself in the work world. Alas, I found out that just like at school, printers and computers fail minutes before a deadline. Time management is a forever skill.
Two words…Free. Food.
Snacks in the community room? Catered lunch and learns? Interior design rep breakfasts? Sign me (and just about the rest of the firm) up! Free food doesn't stop after college.
Late nights and long hours are still a very real thing.
It's not so much the hours that make work and school similar (although staying until 2am has happened in both!) It's about the camaraderie and teamwork that emerges. Towards the end of my internship, I was thrown into a presentation at the last minute. I saw a team band together and produce amazing renderings in the span of twelve hours. There's something special that happens when a group of designers come together at the last minute. You can feel the energy, the drive and the dedication to produce something incredible. Even though we stayed late, I am so grateful to have had the chance to work with my team in that way.
[ Lessons from the Real World ]
Budgets exist.
Oh yeah, money, that thing that we, as students, blissfully ignore. It's a very real thing to deal with in the work world and one that is important to pay attention to. But I think I'll remain in denial one more year at school.
Permits take forever.
Yet another thing that we students ignore at school. And yet, I attended a meeting where there was a forty-five minute discussion about permitting all because of a tree. (And yes, you did just read that sentence correctly.) A tree sparked a whole conversation and presented a number of issues to deal with. Permits can alter the schedule of a project and are an important thing to keep in mind.
Banish the word "custom" from your vocabulary.
As I discovered, the word "custom" raises red flags for many and sends them running to protect their checkbook. My new favorite word became "modified standard." Learn to work within the parameters of a product and find new ways to be creative.
I've truly learned so much this summer, to the point where my sketchbook became less about daily tasks and more about tips for the future. But three things truly stuck with me:
[ Notes to Self ]
INVEST IN WIRELESS HEADPHONES: The number of times I gave myself whiplash thanks to the short cord on mine is comical. Future graduation gift to myself? Definitely wireless headphones.
LEARN FROM EVERYTHING & BE INQUISITIVE: I love school, and I think that stems from being someone who genuinely loves learning. I took this summer as an opportunity to gain as much knowledge as possible, and even have a whole sketchbook to prove it.
TAKE A RISK: Whether it's in your designs or life in general, take that leap. Traveling 850 miles for a summer internship was quite a risk for someone who is normally a homebody. But I've embraced it as a chance to grow and learn that life truly does begin at the end of your comfort zone.
And now it's time for me to return to Virginia Tech to enjoy my senior year ignoring budgets and permits while creating elaborate custom pieces. I've learned so much in my time at CCCA, and I hope they've learned something from me as well (even if that one thing is how much school spirit I have for the Virginia Tech Hokies!)
It's been an incredible summer, one that I will not forget. I'd like to say a huge thank you to everyone at CCCA and as always, Go Hokies!